Ok, before we kick off the main blog, here's a cryptic one for you. L~A's peas turned out to be nice garden peas after all, not snow peas as we'd feared. Just letting them grow a bit more made that self-evident.
We've (I've) decided that her peas are now to be known as "Leo". Why? Well because her surname is Wahren.
Please post your answers in the comments section below if you've sussed it. Though I'm of a mind that only Clarkie is bright (anal,) enough to work the out reason. For the rest of you, the answer will be given in the next blog update..
---
Brandon and Bethy celebrated their 5th. anniversary the other day. I'm not sure if it was the anniversary of their first date, first kiss, or first bonk, but it was the fifth anniversary anyway. It's also the third anniversary of them living together. They went out for a nice meal together, as another bit of their rebellion against mine and L~A's lifestyle. We celebrate anniversaries by getting loaded out of our brains on noxious chemicals and screwing like bunnies. Well, we either do that, or we have a quiet beer/wine and are in bed by 8 o'clock to sleep. (Normally the latter.)
Then a few days later, Brandon comes home looking a bit wary; "Errrmm there's something we need to talk about. I've been offered the chance to go away to work again…" 
Now this has happened a few times, the last time was to Tuvalu, but he's also been sent to Alice Springs, Melbourne and other choice locations, normally for a couple of weeks. So Bethy was wondering why he was looking so scared, then;
 "It's for five months….
It's not exactly any easy place for Bethy to take a holiday to, or to visit him during this five months then. (i.e. bloody impossible.)
Bethy was naturally upset by all of this, but knew there was no way she could say no to him going, it's the opportunity of a lifetime. Once permission was granted, Brandon took the rest of it in his stride. Brandon is so laid back he makes me look hyperactive. In case you are wondering why he's going, he will be installing satellite tracking gear in the snow, and running tests on the software they use, or something. It's obviously not only bloody amazing, but w-a-a-a-a-a-y too bloody complex for  me to understand.
He had to have a medical, and a physical, and passed those. All his Antarctic gear is being supplied by the firm, so no worries there.It's not exactly going to be all hardship down there as the place has a library, a movie theatre, climbing wall, saunas, and…a brewery…
He needed a good camera to take. I was going to give him my old EOS 450D to take, but it is old and had a hard life, and has no batteries, or lenses. So I bit the bullet and loaned him my 5DIII, plus my lenses. Which means I'm now camera-less. Bugger. I've demanded, on pain of removing his testes, that he take zillions of photos.
They had a whirlwind month of getting organised, they spent a weekend at our place so we could say bye-bye to the lad properly. Then they flew down to Tasmania, to have a last couple of nights in a hotel there together, before a tearful quayside send off.
Oh yes, quayside send off. Brandon's first two weeks was spent on an icebreaker, as there's no airstrip at Davis base. This is the ship.
It's a dry ship, so no booze for a fortnight, which shouldn't have been that hard as they were ploughing through some big seas to get there. Berthy "accidentally" let slip to his shipmates that his nickname is "Boo". That'll keep him on his toes then.
We now know that he's arrived safely, and is getting stuck in. He's sent me some photos, mainly of penguins, so at least I know my camera is being used.
Amazing to think that the next time I see Brandon will be when him and Bethy come over to Blighty to say with us, possibly later next year. I'll keep you updated on his adventures as and when I know anything myself.
(Honestly, I'm so bloody envious I could spit, what a chance for a lad!)
---
In the middle of this kerfuffle we had our whale watching trip. As he hadn't left I borrowed my camera and lenses back off Brandon for it. This was lucky as it was the best one yet.
L~A found digs for us, we just wanted an overnight stop. The place Twofold Bay Motor Inn was reasonably priced, very clean, very well outfitted, had great beds, and was right in the centre of Eden. So no probs then.
With all of Eden to choose a place to have an evening out, we decided to go back to the place we'd drank at with Alan & Jo Harness when they were over last. Not for any particular reason, just cos it was close. We had some very good pub grub, and a tidy drop of beer there,(inevitably served too cold,) so what's not to like? Weirdly, the place was entirely staffed by Maori blokes and chicks, so it was like being back in NZ again.
The next morning we took our places on "Cat Ballou" and had the best whale watching trip we have ever had. The whales approached the boat, we saw breaching, tail slapping, and rolls. The boat was escorted about the bay by dolphins, and a sea eagle flew overhead.
What a bloody day!! My photo gallery doesn't really do it justice. Go here for more whale photos.
Their trip report, prosaically, reads; Sunday 15th October 2017
Whale watching doesn't get much better than what Cat Balou passengers experienced today. Calm seas with lots of sunshine and so many mothers and calves seen on both trips – many inside Twofold Bay. The morning trip were with whales within minutes of leaving the Eden wharf with a mother & calf breaching a number of times before mum gave an awesome tail slapping display. More action on the afternoon trip with lots of tail slapping and brilliant singing heard.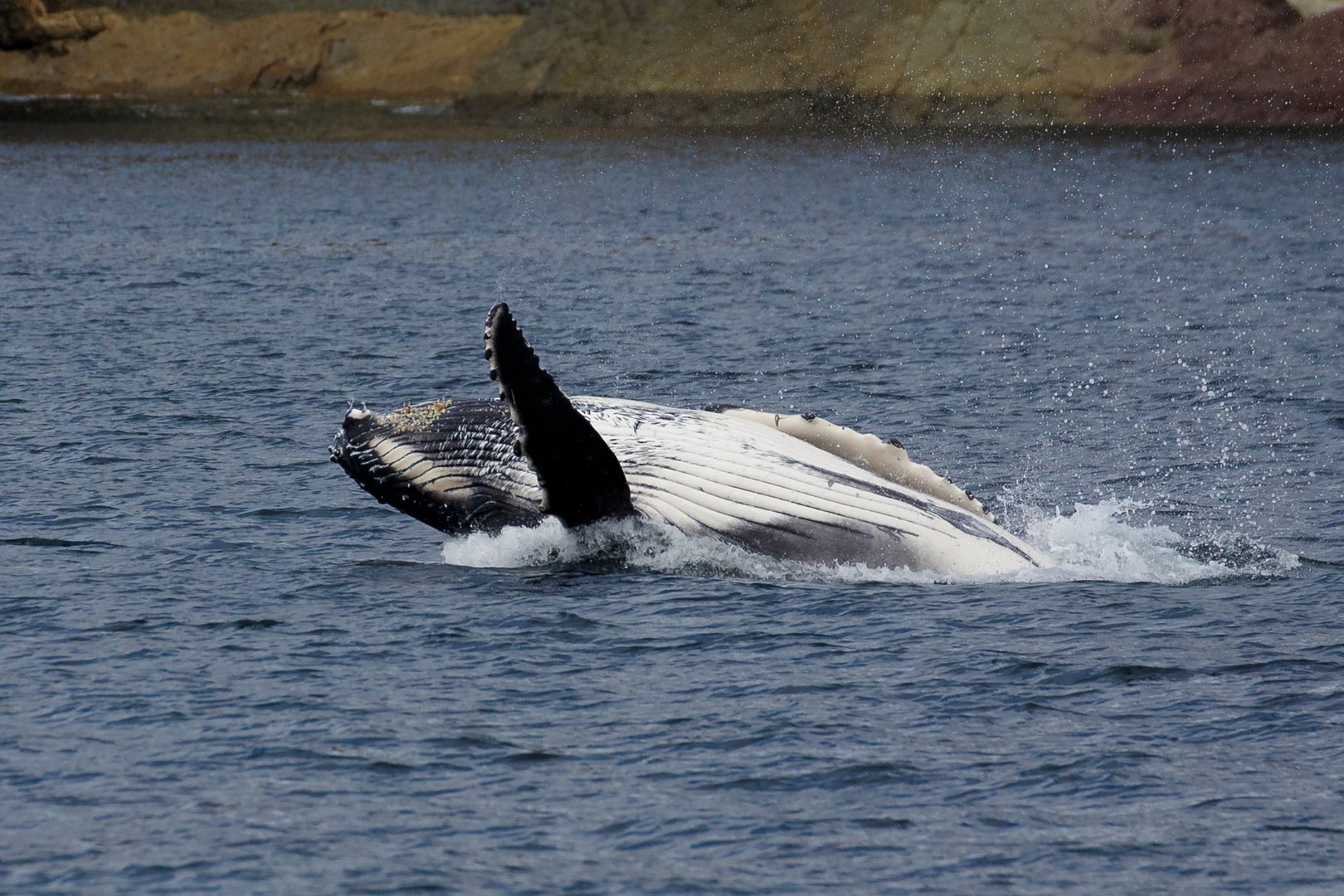 ---
We went and saw that "Crazy Horse" show. Oh blimey.
I knew it was going to be a hard night just from the trailers. But nothing can prepare you boys, believe me. The show consists of a dozen or more dancers.
Dancers who are all EXTREMELY attractive dancers, very, very, tall dancers, dancers with long, long, long, legs, and mainly dancing topless.
In fact the only times they weren't dancing topless was when they were doing strip routines. One strip routine features a lesbian bondage session. FUCK ME PINK.
All the blokes in the audience walked out bent double, myself included. Beats Viagra any bloody day I'll tell you. L~A enjoyed.
---
This made me laugh, those of you who have been here to visit may enjoy;
Canberra has beaten Sydney and Melbourne to be named one of the world's top 10 cities to visit in 2018.
The capital features in Lonely Planet's "Best in Travel 2018" list, ranking third in the Top 10 cities section – the highest ever listing of an Australian city in the publication, to be released on Wednesday. "Rich with history, culture and entertainment, it offers something for every kind of traveller," Mr Zeiher said. "Recent revitalisation efforts has given Canberra a new lease of life, establishing a truly contemporary and unique sense of style, with boutique precincts emerging throughout the city, bursting with cool bars, cafes and restaurants."
Seville in Spain tops the list of cities to visit, followed by Detroit, Canberra and Hamburg.He said the panel of travel experts had to vote on a series of strict criteria and part of that was down to unique experiences for 2018.
---
We walked to the gym the other morning, and it was shut. The young lad who is the manager/personal trainer was stood outside looking worried; "The security system's failed so you cannot go in." Oh bollocks!
The thing is you see, normally we get up around 5.45 am, have a cuppa and cruise facebook, then get changed and walk to the gym. By the time we get to the gym, the cuppa has lit the fuse, and we're "ready to use the facilities," so to speak.
It normally takes us about five minutes to walk to the gym, this day we did the "walk" back in under two.
---
As one of our "let's keep B1 from getting lonely, " exploits, we went and saw "Murder on The Orient Express". Just for Mr Kingman, here's my review, call me Barry Humphries;
I have Suchet as the perfect Poirot archetype, with Ustinov a pale second. So Branagh was not ideal, and was far too physical in the role. It was as incongruous as seeing Sherlock Holmes played by a short, fat, bald, bloke. Not only that but Branagh seemed to be playing Poirot  as Holmes, esp in the opening scenes.
That just didn't work for me. Surprisingly, his moustache, which had made newspaper headlines,  was the least of the diversions.
This is how Agatha Christie describes Poirot;
He was hardly more than five feet four inches but carried himself with great dignity. His head was exactly the shape of an egg, and he always perched it a little on one side. His moustache was very stiff and military. Even if everything on his face was covered, the tips of moustache and the pink-tipped nose would be visible.
Bitching aside, the film was beautiful, lush scenery, superb settings, wonderful attention to the Art Deco of the time, (that train!!!) The acting? Well what do you expect from a cast like that? Depp was particularly impressive, Pfeiffer was dazzling, and Lucy Boynton, well…drop dead gorgeous….
Nicely shot, apart from some stupid scenes which were filmed from above, and just didn't work, and wonderful direction.
The story was reasonably true to the book. So all in all 7/10 from me.
---
One thing I've always sworn I would not be interested in is women's cricket. We watched a couple of matches on TV, and I found them, to be frank, rather low skill. "How can a talentless twat like you say such a thing?!?!" I hear you exclaim. Ok, I may have the cricketing skills of the average goldfish, but still, if I'm going to pay to watch a match, I want to see some inspiring stuff. However when the women's international match, as part of the women's ashes series, announced they were coming to Canberra for a couple of T20 games, I immediately bought tickets.
Why? Well fuck it! I'm only seeing one first class match this season, at the Sydney Ashes match on the opening day's play. It's my birthday treat, so why miss a chance of seeing an international match live? (Even if it is birds playing.)  L~A and her mother decided they wanted to come too.
We had a pre match drink and meal at "Public Bar", which, with it's tiled decor, looked more like a "Public urinal" Tidy bit of grub there though, and a decent beer. One odd thing.They do those horrible stringy chips with fish and chips, but if you order chips as a side dish you get proper thick cut ones. They should get rid of the stringy chips!
Much to my amazement it was a fucking awesome match, with England taking the win with only 10 balls to spare.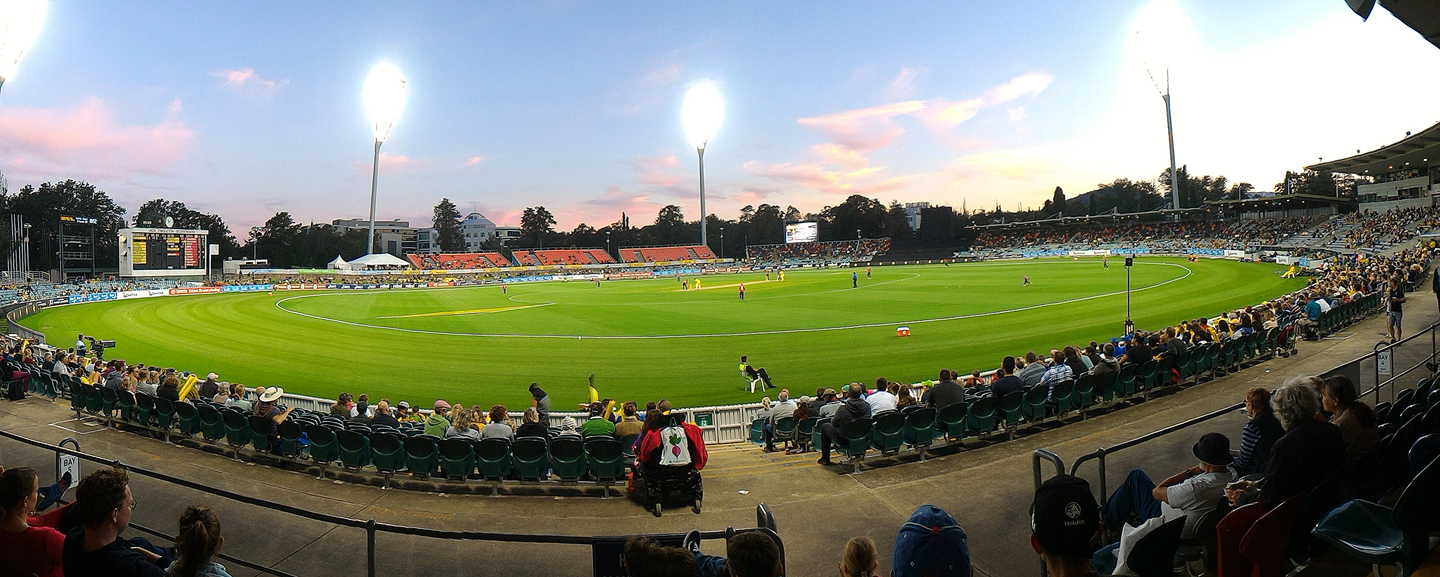 At the break I decided to go for a walk around the ground to stretch my legs. I came upon four elderly women who were wearing Welsh caps, so I stopped to say hello. They were out in Aus following the women's cricket tour. We chatted, and I found out that one of them was from the same area of Llanelli that I'm from. Not only that but she knew my parents, and her father played cricket with my dad. Small bloody world or what!
I put this encounter on a Facebook page for "Seaside Llanelli", and lots of people knew her. Many references were made to how "she's always been very keen on sport", (Llanelli code for "raving dyke.")
---
Something I've never done before is make a Xmas cake. L~A is the baker in our crew, though I will boast that I knock out a mean Welsh Cake. But some guys on a forum I use were discussing making their Xmas cakes, and so sod it, why not have a go myself?
I was going to do it as one of my "Cooking With Taff" scenarios, but seeing as there was a very high chance of a fuck up factor being involved, I didn't bother. A shame really as it turned out superb! We're now "feeding it" as per prescription, with a tablespoon of single malt every Sunday, and will eat it on Xmas day.
Ok,seeing as we've yet to taste it is may be utter crap, I'll let you know in the next blog…
Recipe, from the Grauniad, here
---
For L~A's birthday present, Bethy had promised to treat us to a meal at "Bannisters", which is Rick Stein's Aussie venue.
Due to mine and Bethy's shifts we had to travel down in three cars, with L~A drawing the short straw, travelling with her mother and the dogs. At least the dogs were no bother. L~A found us a lovely place to stay there, one with a spa, there's posh!
On the Thursday, me, L~A and Bethy decided to climb Pigeon House Mountain.  We've done this so many times before, but it really is worth doing, the views from the top, over miles of sub-tropical rainforest, are just amazing. We knocked it off without too much hassle, apart that is from L~A who had eaten too much breakfast, and had to stop several times to chuck up. Ever since I did my marathon stomp up Mt Kosciusko with a young, and very fit, Tom Harness, I've been convinced that big walks are best done on an empty stomach, and have stuck with that. Anyway, we made it up, and left L~A at the foot of the final ladders, while me and Bethy went up top for a pose.
Once up there we spotted that there were huge thunderheads building all around us, and decided that, as we were on the top of the highest land point for hundreds of kilometres, and had to descend iron ladders to get off it, running away very quickly was our best choice.

That night the heavens opened, if you've ever been in a sub-tropical storm you'll know how enervating this can be. So Bethy and L~A had a spa bath in it.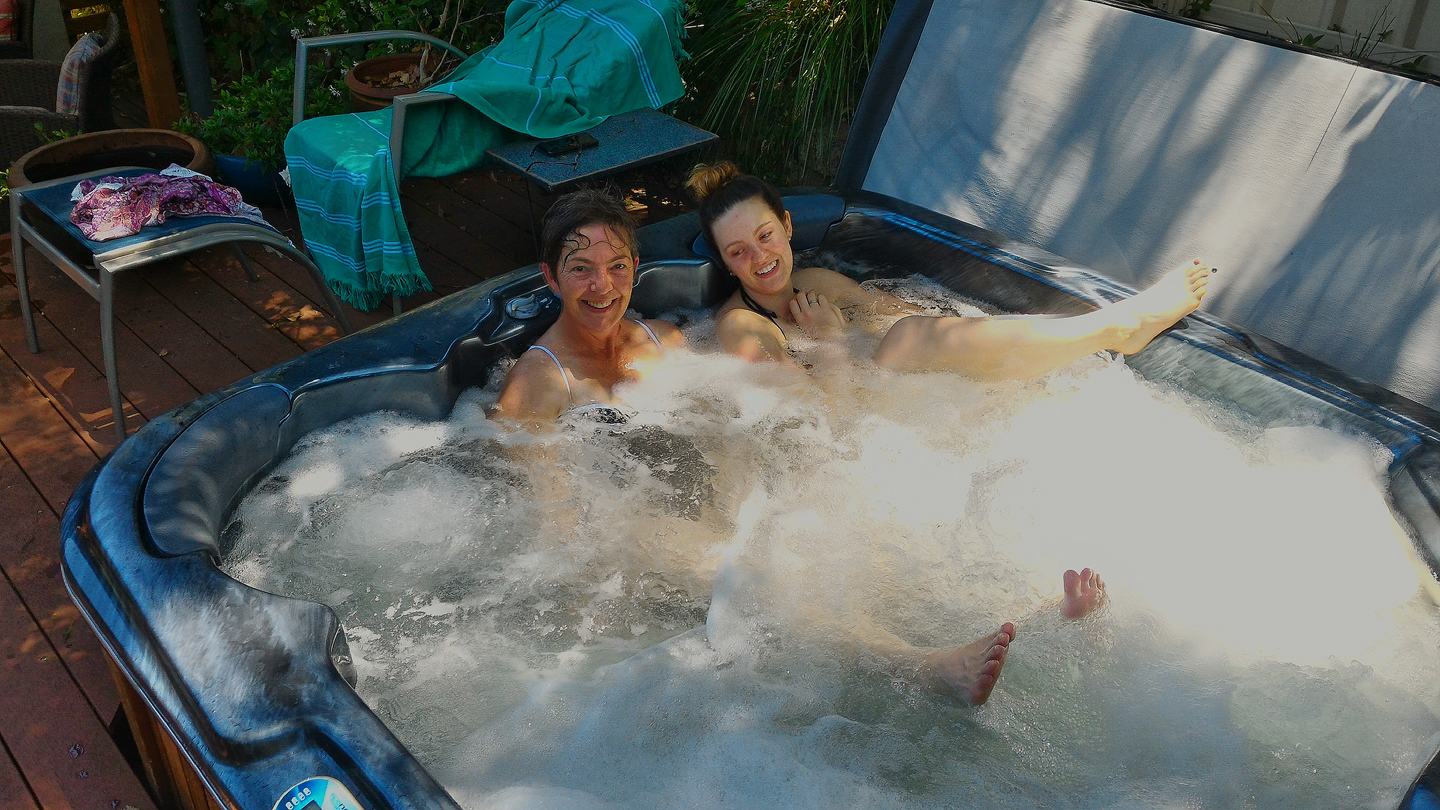 The next night Bethy drove us to Bannisters.  I will say from the off that this was the best meal I have had in Aus.  We had three courses. My choices were; "Spicy Green Mango Salad with Crispy Smoked Snowy Mountain Trout and Sweet and Sour Dressing" followed by "Bombay Salmon Masala Curry, Coconut Spice Paste, Tomatoes and Tamarind", and inevitably, the cheese plate. They had a great way with the cheese here, you can choose any number of cheese from a list, or have a "selection plate". On the subject of which, this is how a cheese plate should be presented!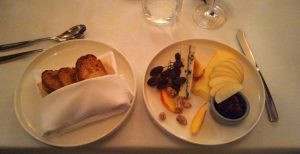 The food was divine, really really beautifully balanced, clever but not showy presentation, and cooked to perfection. The mango/smoked trout salad was the highlight for me, I'm going to have a crack at making it myself soon.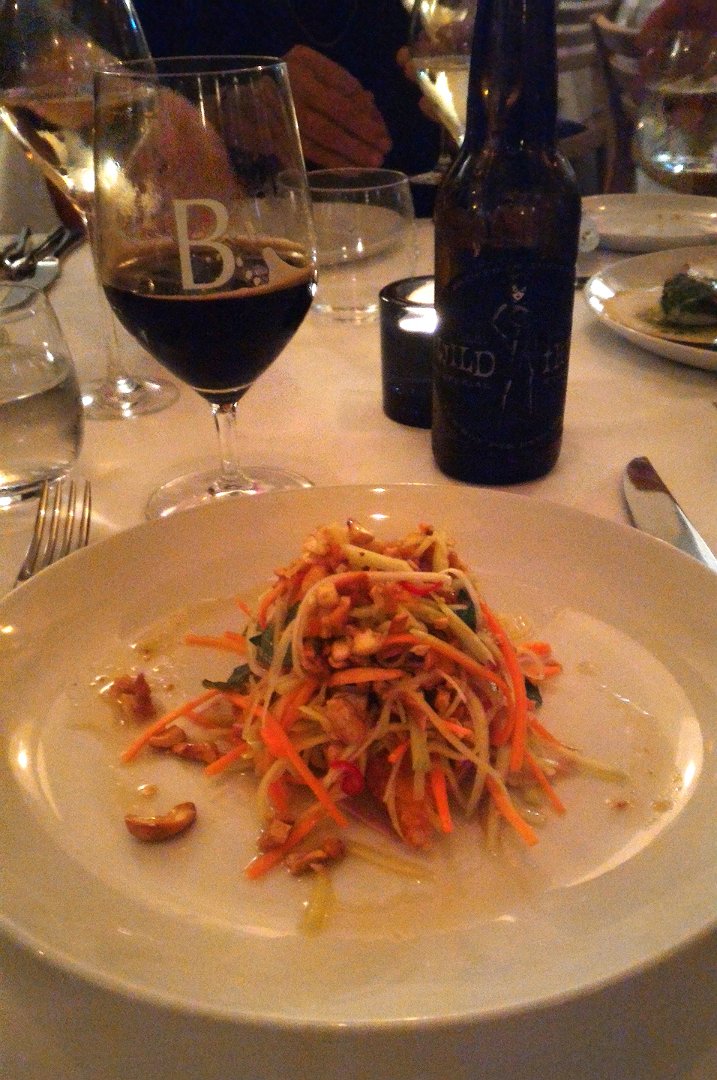 With my meal I had a "Wild Thing" Imperial Stout, which weighed in at 10% abv.
THE best ale I have had out here, not including the ones I had in NZ. Really rich , chocolatey and with burnt notes. God it was lovey, but so heavy I only had one. I had an Ardbeg "Corryvreckan" with my cheese.
I don't know if the Sommelier was new, or unused to Scotch measures, but it looked like he gave me nor far short of a half pint of it. Not that I was complaining.
All in all an outstanding experience, one I'd love to repeat.
The setting, overlooking the sea was sublime. The staff set the tone for the evening when, noticing we were sat next to a couple of Asian families with free range kids, kids who were getting more and more boisterous, they moved us to a quiet part of the dining area, bloody nice one! The rest of the evening they were attentive and friendly, as you would expect. First rate all of them, Mary left a hefty tip.
If I were to complain a little, the décor, well, abstract art isn't my cuppa, (I think it's shite,) so I found that naff, the seats were a little bit too hard. However, none of this distracted from the main event, the nosh.
I did say to L~A that it knocked Stein's "The Seafood Restaurant" in Padstow into a cocked hat. She pointed out to me that we'd not eaten there for 14 years, and that when I had eaten there the last time I was a vegetarian eating in a seafood restaurant, so my views could be more than a little suspect.
The rest of the time we were down at the coast was either spent watching the Aussies hammer the Poms in the first test, (some nice "unbiased" reporting of the match here,) or walking the mutts on the glorious, and empty, beach.
---
So, writing this, here I am sat in my office on Saturday Dec 2nd. on what is my official last day of work, ever. The crew gave me a good send off yesterday, and I've had presents and lots of nice "goodbye" emails. The funny thing is that over the last couple of days I've been sat in meetings, giving my thoughts, and actually, if not feeling sad, then feeling like I'm going to miss out on stuff.
I'll miss the problem solving, the intensity, the madness, the strange and wonderful worlds of psychosis and schizophrenia.
One of our kids has been on an ICE binge and is currently mad as fuck. I'm almost jealous of the guys who will have to go out, deal with him. They'll need to find him, talk him down and take him into hospital. This is normally my work, especially as he's one of the ones who gets a bit punchy when mad.
I'll miss the team, I'll miss some of the punters, I won't miss many of the parents. Charlie said to me once; "it's the being part of something that I missed when I retired," and I'm beginning to see what he means.
I made them some Welshcakes as a compensation for losing me.
I took them in on my penultimate day of work, as my last day, being a Saturday, would see only two of us on shift. On the Friday the office was full, I arrived to find my desk looking like this;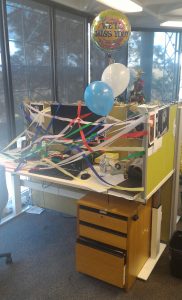 My colleagues were obviously sad to see me leave;
The T-shirt, worn especially for my penultimate day of work, reads;
"Let's pretend I give a shit and leave it at that."
The funniest thing was, since we decided to risk it and go for early retirement, I'd had this picture in my head that when I retired it would be on a weekend day, as we only have two staff on weekends, and I'd be able to leave quietly. I was also convinced it would be on a rainy day. But when I went and put my forms in, the roster meant I couldn't finish on a weekend, not without sacrificing some holiday days, and this time of year the sun is normally out, and the temperature in the high 20s or low 30s.
One week ago, the boss asked if anyone would work an extra shift, as overtime, to cover Saturday, as we were short staffed. So I stuck my hand up for it, even though it meant retiring a day late. Today, we've had the biggest thunderstorm in Canberra for many years.
Weird as fuck.
This song hasn't been out of my head all day;
When the moment comes and the gathering stands and the clock turns back to reflect
On the years of grace as those footsteps trace for the last time out of the act
Well this way of life's recollection, the hallowed strip in the haze
The fabled men and the noonday sun are much more than just yarns of their days.
---
So between now and January the 17th, me and L~A will be getting everything ready for returning to the UK. Our furniture gets shipped on the 10th of January, and we then move into Mary's house until I go. As you can imagine, what with Xmas, new Years, my birthday, and a trip to Sydney for the cricket, to also fit into that time, it's going to be a hectic six weeks ahead of us.
I'll let you know how it goes in the next blog episode.
This month's photo gallery, inc Brandon's penguin shots, can be found here…